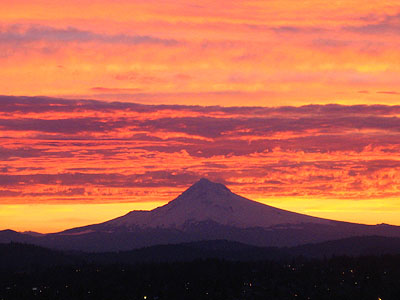 Every Winter morning that I wake up and can see Mt. Hood is a good one. I can count on it! Today is going to be clear and cold and SUNNY!!
Yesterday I headed out for a 5 mile run with Ki. It was not the best - she had potty problems and I seem to have renewed my shin splint pain. I was only able to run 2 miles and then we walked two. I really wanted to wait until our TNT shoe clinic to buy new shoes but I think I'm going to have to get them sooner.
After the run/walk, I headed downtown to Deschutes Brewery for lunch with my friend, Sheryl. She was my security blanket all last year in bike training and this year she is once again my hero. She's in my TNT mentor group again - Hooray! and she is using Pac Crest as a training race for IRONMAN Canada in August!! Maybe by some crazy chance, I'll come by some extra money and be able to go along and cheer! She's totally inspired me yet again.
Mai's headaches seem worse this weekend, but she's also got a cold so that is probably why. She's got a huge canker sore in her mouth and her poop is green? I'm not googling symptoms anymore, there are just too many! Thanks everyone for your continued prayers. As of right now, we are just waiting for Wednesday when they will do the MRI. They will also draw blood again while she is under to test for lead poisoning and take a urine spec to check her bun level again. I'm just so glad that she is old enough now to tell me her head hurts. You moms must remember what it was like when you knew something was wrong but the kids were too little to tell us what was hurting them - so frustrating!
I think I'll skip my long run today and let my shins have some rest. Time to hop on the bike for a bit today. The longest I've ridden since Pac Crest was 3 1/2 miles the other day with Mai...
pitiful. I've got some work ahead of me! Can't wait!