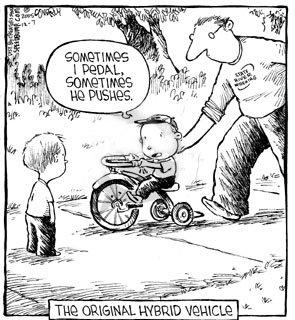 Saturday was our first brick of the season. A 25 mile ride out at Vancouver Lake followed by a 5 mile run. The weather was PERFECT and the ride went well. I was a little disappointed that I only managed to knock off about 6 minutes from last year's ride, but we did have quite a headwind on Saturday, so maybe that accounted for it. But, I felt good about the ride itself. Then we got to the run portion and it sucked. I was only able to go about a half mile or so before my shin splints became unbearable. I said goodbye to Sheryl and headed back to the truck...walking.
I've got myself on a week long stretching, icing, ibuprofen treatment and then if there is no improvement, I'm off to a specialist.
Yesterday had a 40 mile hilly ride on the schedule. There was a rebel ride out in Hillsboro. Every weekend we have a TNT team ride or run and then someone usually coordinates a "rebel" ride or run. On these rebels, you usually don't have a coach there and no one really sweeps the back to make sure no one gets lost, etc, so they
can
be somewhat of a pain if you get lost or you blow a tire because no one is really keeping track of you. HOWEVER, riding with the group beats out riding by yourself every time. I woke up to an e-mail from Ilana with the cue sheets and realized she had added a 60 mile option. Hmm...not a good sign for me. I figured most of the people doing the ride would opt for the 60 instead of the 40 because they are all crazy people who are either doing a 1/2 ironman in two weeks down in Cali or they are training for a full ironman. What happened to all the normal people, huh? C'mon...let's just go 40 and have a good time ;o)
So when I got to our meeting place I figured I was in for 60 miles and a tough climb back up Logie, which we go screaming down at about mile 13.
So the plan was 60, but as we finished our first big...long...drawnout hill, I heard the angelic voice of Sheryl say, how 'bout we skip Logie? YES!!! I'm in! Hooray. My heart AND LEGS leapt with joy! hehe. We'll save it for another day.
We headed to Pumpkin Ridge and boy what a difference from a few weeks ago when all we could see was rain and fog and our bodies were frozen. This ride was completely different. The sun was bright, we were getting a little sunburn, we could see for miles and miles and miles and miles and miles....oh yeah!
As we grinded up to the top, the view was all worth it! We waited for a few minutes and the rest of the group joined us with lots of high fives as each person reached the top. What a great way to spend a perfect spring morning! What a great way.
I don't think I know one single Miley Cyrus song, but I heard this on my way out to meet everyone yesterday and I loved the chorus as I prepared for my "hilly" ride. That song set the mood and these people who love to ride and love to make a difference and who love the rush of doing something out of the ordinary on a weekend morning, really hit my spot!
I can almost see it.
that dream I'm dreaming, but
there's a voice inside of my head, tellin'
you'll never reach it
every step I'm takin'
every move I make
feels lost in no direction,
my faith is shakin'
but I gotta keep tryin'
gotta keep my head held high
There's always gonna be another mountain
I'm always gonna wanna make it move
always gonna be an uphill battle
sometimes I'm gonna have to lose
ain't about how fast I get there
ain't about what's waitin' on the other side
it's a climb
The struggles I'm facing
the changes I'm taking
sometimes they knock me down, but
no I'm not breaking
I may not know where, but
these are the moments that
I'm gonna remember most
I've just gotta keep goin', and
I gotta be strong
just keep pushing on, but
There's always gonna be another mountain
I'm always gonna wanna make it move
always gonna be an uphill battle
sometimes I'm gonna have to lose
ain't about how fast I get there
ain't about what's waitin' on the other side
it's a climb
There's always gonna be another mountain
I'm always gonna wanna make it move
always gonna be an uphill battle
sometimes I'm gonna have to lose
ain't about how fast I get there
ain't about what's waitin' on the other side
it's a climb
Keep on movin'
keep climbin'
keep faith baby
It's all about, it's all about
the climb
keep the faith, keep your faith