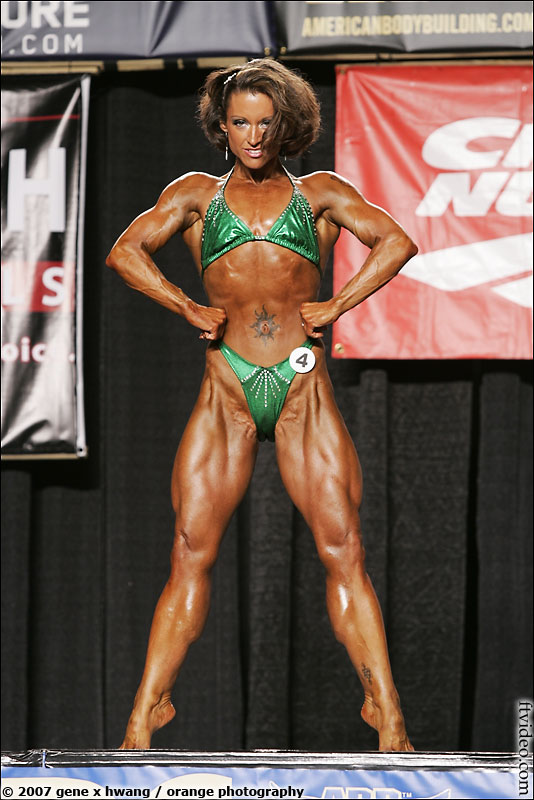 GymDiva - one of Trace and Cam's girls that competed at the NPC Junior Nationals two weeks ago.

TGIF. I'm supposed to be going to the Oregon State BB show tomorrow with a couple of girls, but both kids are sick. Their throats are covered with red spots. Apparently there's a virus going around. I BETTER NOT GET IT!
Getting ready to go pick up my pretty boy, Dave. I can't wait to see his haircut. Hope the other cats don't make fun of him too much.

THURSDAY JUNE 28
This was not a very hardcore leg day. My left ankle has been swollen for several weeks now. It hasn't been hurting at all, but I think sitting for so long at my desk yesterday didn't help matters. My whole left lower leg was SWOLLEN yesterday. I basically had one right ankle and one left
C
ankle

. Instead of going heavy, just did very slow and controlled on all reps.
Leg Ext
80x10
80x10
80x10
80x12
Seated Leg Curls
80x10
80x10
80x10
80x13
Toe Press on Seated Leg Press Machine
160x10
160x10
160x10
160x12
Leg Press
270x10
270x10
270x10
270x22
Bicep Machine Curls
65x7
65x7
65x6
65x6
FRIDAY JUNE 29, 2007

HS Shoulder Press LT: 110/14RP
TT: 110/23RP
(I did this before chest today, tho)
Side Raises LT: 20/16
TT: 20/16ss
HS Incline Chest Press LT: 100/16
TT: 110/3, 100/3, 100/2 60/13, 60/8RP
Different machine this time and I really had a time finding the right weight to start with.
Tricep Pressdown straight Bar (outside station) LT: n/a
TT: 50/25RP
and then 30/20, 30/20 and then 30/20 with rope
Close Grip Pullodowns LT: 105/16
TT: 105/18RP
Life Fitness Low Row LT: 130/4, 100/9
TT: 130/5, 100/10ss
Abs ~ crunches 5 sets of 20
CARDIO:
Treadclimber x15mins
Snowshoe Elliptical x15mins